Qingdao Seaview Garden Hotel is a five star hotel which build in the European Garden style. This hotel is located near Donghai Street, just beside the beach and also it is decorated with a lot of sculpture. Meanwhile, with this location, the customers can easily get the famous scenic spots,such like Qingdao Polar Ocean World, Qingdao Olympic Sailing Center and May Forth Square. So, with the good traspotation and wonderful environment, Qingdao Seaview Garden Hotel become one of the Best Chinese Business Hotel.
Our Qingdao Seaview Garden Hotel now has about 363 rooms with a variety of high grade room types, about 1000 seats for meal, and also our hotel has a garden cafe and coffee Bar, 10 different size of meeting rooms, 20 banquet rooms with a wonerderful view. The biggest banquet room which named Kaixuan is about 1000m2.There is no doubt that we proivde the recreational service like bar, executive business lounge 、ourdoor swimming, fitness center, spa, billiards and table tennis room, chess room, beauty salon and even the selected shop, business center, clinic, concierge team. All our service is for the customers' convience.Especially, in the summer, we have the wonderful Haiwaii BBQ nearby the outdoor swimming pool, every summer, with the fresh sea wind and lively music, you can enjoy a different Qingdao, creat a wonderful memory.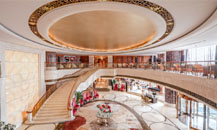 In our beautiful garden, there is not only the grassy lawn, the scuplture fountains, viewing platform, the BBQ in summer, but also the only ourdoor swimming pool with sea water in Qingdao. Beside that, there is a little beach for children to play. With the sunshine, wind from the ocean, beautiful scenery, and the smile of children. You will never regret to choose our Qingdao Seaview Garden Hotel.